Good morning readers! I don't have any new stuff for you today, but I DO have some great blog candy opportunities to share with you!
First, the lovely
Paulina over at Pretty Pink Posh
(who is just SO talented and sweet) is having a great giveaway for January! Paulina makes the pretties cards! Her blog is definitely great for amazing talent and inspiration! Here are the details: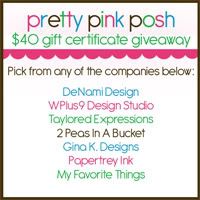 Just click the picture for all of the details! This blog candy ends January 15th!
Second, the wonderfully talented
Joy over at Less is More
is celebrating her one year Blogoversary! =D Here's a picture of the candy that she's offering:
Click on the picture to read the details!!! This blog candy opportunity ends on January 14th at midnight!!! Check out her blog, she has some amazing creations!
Well, that's all I have for you today!!! I'll be back on Sunday for the DeNami Blog Hop!
-Kristy