Well, hello readers! I'm back with another 10 Minute Craft Dash Challenge!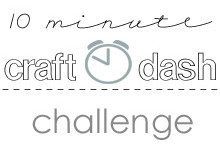 This time the challenge has BEAUTIFUL colors!!! =D Here's what I came up with:
Total Time: 9 Minutes, 48 Seconds
I had this card done with
plenty
of time to spare at first, but at the last minute I made a HUGE change! The card base was originally blue, but it didn't match the ribbon the way I wanted so I took off the front of the card and went for a white on white look! I'm MUCH happier with this, even if it did almost run me out of time! Here's a closer look at the circle stamped sentiment and the embossed background:
Have you played along with the 10 Minute Craft Dash Challenge? You should! It's SO much fun! =) Thanks for stopping by! Have a great week!
Supplies:
* Scrap Ribbon and Orange PP from my stash!